Ici les messages des "Lovelies" adressés à George à l'occasion de son Anniversaire...      MERCI  A  VOUS  TOUS!!!.
DANIELLE  - From :  France
Hi George, wishing you every happiness on your special day. I have a suggestion for a next song "a song in french" nothing is not impossible, I believe ? I know lovelies want more always... but I remember "Bonsoir Marseille, ça va ? and "Bonsoir Montpellier" Happy Birthday and see you soon.  DANIELLE.
PETER  -  From  :  France
All my wishes of happiness for your Birthday thank you bring through your music , koop it that long take good care of you , you are so important for your fans . PETER
ANNE-LISE  -  From   :   France
George , a good and happy birthday to you George much happiness with your loved Fadi . ANNE-LISE
MARINA  - From   :   France
Dear George , a very Happy Birthday to a wonderful man , generous , illuminating every of my life be happy . Kiss  MARINA
BARBARA  -  From   :   Switzerland
Hello sexy man , Happy Birthday from @CHADLOVGM ET @Zap-ol your forever fans , have a wonderfull day and rdv point at the Opera Garnier ! can't wait !!! Big hugs WE LOVE YOU AS WELL :-)  BARBARA
CLAUDIA MOEDERSHEIM  -  From   :   Netherlands
Hi George , 49 years young . 25 th June! Happy Birthday my dear George . Enjoy your day . With all my love , your lovely . CLAUDIA
ANIFA   -   From   :   France
Georgios , what a beautiful day which commemorates as your birt be nice and peaceful , because you can'imagine all the world beautiful throught than those who love you send you . Few people can . Boast being both adored and loved like you . I don't understand why I love everything about you , it is an enigma and I love it . You have already love , the glory , beauty , and although a very happy birthday , I wish you health and peace great feast with family friends affectionately , very soon in Paris . ANIFA
ANN-MARY  -  From   :  France
FIRST GEORGE HAPPY BIRTHDAY MY FRIEND LIKE NO OTHER . Surprise surprise open letter . A Chinese proverb says . If you want to know the thoughts of a man listening attentively to his words for me the first " thing" that I did was to see before hearing attracted five live on your plastic this is after I listened to " someone to love" you "the killer" smooth the sound of your voice also reminded me that "Dad was a tramp" believe me" these are the days of our lives" who call you "dear(s) friends" that other Chinese thought the true knowledge is knowing the extent of his ignorance .... running through my mind I said I want to know what's in the belly of this man , which is you or you for behind I cycled through all hearing the years Wham a film that begins with "call me before" if you find "freedom" a word capricious and whose "reckless bavardarge" will not change this fact days in "blue" give "faith" "in paradise" yet you also said "the christmas past" " I'm your man" "In another corner of your heart" "I knew you was expecting" I have liked to say "I want your sex" but the "kiss of a madman" was for you "face of a father" "Everything she wants" is "a mistake" "too funny" you guess all those who have " dreamed the one night stand" with you the beginning of wisdom is to call things by their proper name you will not say otherwise you do not have any hidden.... "Star" you were "perfect town" in love with "the kiss of a madman" "Outside" under the sun.... you have felt "old" in your voice and your tears "praying for the world" for Jesus to a child" "that you so loved" ( and not just him) was in "a corner here" with you we all wonder " why John and Elvis are dead" for survival but it is better "as he wheel turns" "Patience" is using "like" this "precious box" made you do know "the amazing".... "Roxanne" made you imply "I can not force you to love me" just spend "some time with you" baby and that was "another matter" matter "she dreaming waltz" she could "shoot the dog" who took his place you did not have to worry about his wisdom and uderstanding you wished happiness with the "American Angel" you've heard "go ahead" to be "free" "this strange" but not "fouttue" she was with you now you always here in you these words: "My mother had a brother" cry "please sen someone" touched down your new "love affair" and again you feel "like all other lovers of the world" "You and Me" we know that after there is "this white light" and "it does not really matter" "that is how the cycle of life it's all over FOR GEORGE MICHAEL (and all his songs and some of which I forgot to put the heart is sorry) ANN-MARY (from afar I saw and I heard it sung) THANK YOU GM.
CAROLYN MARTINEZ - From :  Canada
Happy Birthday Mr. Lovely xoxo
Dearest George ~  I hope you do not mind this perhaps being one of a few.
Happy Birthday wishes to you from me... I will try to make each on shorter:) However, there is always so much one wants to say to someone, they may not know personally, but who they certainly feel a connection with...Tthis connection of course is because of the gift of your music to your fan after so many years, and the excusable person you are with them...I have the greatest adoration and respect for the artist and person that you are, and thank you so very much for well... Everything... I can only hope and wish for your happiness, good health and many more years enjoying your music, your charm and your charisma... Also, though being a fans for so long, i've yet to see you live, and I hope and wish too for this to come true... Most importantly though, is that you do what you can, your fans will always be here... I suppose this message was not that short:) Trust me though, I could say so much more...Like you are aging so handsomely:) So please do enjoy your special day with you loved ones, knowing you to are loved... From the botom of my heart, CAROLYN MARTINEZ/Freedomgurl68 Your Canadain fan forever.
YVONNE BREEVAART - From :  Netherland
Dear George.
Wishing you a Happy Birthday its a very special one we are so happy that your still with us, wishing you a beautiful, loving and happy with your loved...Cant wait for all the beautiful thing to come we are very Lucky.
Lots of love YVONNE BREEVAART (GMlovelies67xxx) and her two boys John and Dennis xxx.
 CHRISTINE WIESJAHN - From :  Germany
MY LOVELY GEORGE !
I wish you all my HEART lots of LOVE, HAPPINESS and Your BIRHDAY!!! All of this what you wish for comes true and you have found your Luck wish Fadi!!! I an so glad, that you are with us!!!!!! You're always withe me, in good times and bad times and that makes me happy!!! Your music gives me STRENGTH and is good for my HEART and my SOUL!!! I will never miss you!!! I need you!!! Thank you fo everything!!! Give good care of yourself!!! GEORGE, I LOVE YOU FOREVER AND EVER!!! Sens you many KISSES and HUGS!!!!!    CHRISTINE
 CELIA -  From :  France
 HAPPY BITHDAY GEORGE
See you in Prague was a huge HAPPINESS. Your hospital has ben a real night mare see you in perfect headline is RELIEF, JOY. Your French Fan.   CELIA
ANNIE  - From :  France
Dear GEORGE
That this day be filled with love, what is exceptional, and I wish you many BIRTHDAY... HAPPY BIRTHDAY GEORGE.
Take care of yourself, you are loved.     ANNIE
NADIA  -  From  :  Switzerlands
Well there have some thing to say and wish..... But the deepest of my heart I wish you happy birthday! Full hearlth and especially many beautiful songs and love as you did so well..... WITH LOVE .   NADIA
LUCIA  -  From   :  Italia
HAPPY BIRTHDAY GEORGE . Much joy in my heart when I listen to your music , your voice,I'am sure that WHITE LIGHT is wonderful , I want to hear Fan forever . LUCIA
NICOLE COSTE  -  From   :  France
George, I'am pleased to have "particulary this year" the right to send you this little message . You can imagine I'am huge fan since the early Wham! . I love what you do , I admire the man and artist . You are part of my daily life, the music always thoroughly ( too bad for the neighbors). I feel very close to you for some events in my life when I go wrong I hear some of your songs and the miracle happened my sadness flies away . Thank you for what you bring . You have a very important place in my heart . HAPPY BIRTHDAY George . I kiss you . NICOLE
VERONIQUE  -  From   :   France
Happy Birthday to you this day that George is full of joy and love we think you here is 26 years since you filled me with happiness and love we do not exchange and a huge thank you to his blog for Christiane makes us follow each momment near you cane . VERONIQUE
CARMELO  -   From   :   France
In this day and full of precious memories for you, you we always reversible and especially you make us to understand how life hangs by a thread . This thread of life that you almost lost lately, thank you gods you is still there and to our delight . We your lovelies, we... will never forget you . HAPPY BIRTHDAY GEORGE... AND LONG LIFE TO YOU . LONG LIFE AS A WHITE LIGHT . CARMELO
EDWARD  -  From   :   England
Happy Birthday dear George, a very good day for June 25, thank you for bringing so much hapiness through your music...Soon a new with you at RAH for Symphonica.......EDWARD
HARMONY   -  From  :   France
Happy Birthday George, I'll want plenty of other ( I'am the french cop who I took your picture with my two daugthers in august 2006). Your music is amazing and I know WHITE LIGHT will be the best song of your comeback.... GOD BLESS YOU . HARMONY
NATALIA   -   From   :   Russia
My darling, a good Happy Birthday, you are in my daily life with your music,I'am glad you feel better, but takes great care of you.....Kisses   NATALIA
STEPHANIE FERNANDEZ DA COSTA  -  From   :  France
HAPPY BIRTHDAY GEORGE !!! I wish you a Happy Birthday George ! That everything you desire come true ! I wish you health, happiness, love......Continues to us make me dream like you for over 25years! I saw you twice in concert last year and your voice always makes me vibrate as much . I was at the forefront and our eyes met (yes It's true, I have pictures to prove it lol) I LOVE YOU GEORGE ! kisses from your lovely !!! STEPHANIE
MARION  -  From  :  France
May this day bring joy, happiness, love....Very Happy Birthday George with love and respect . MARION
YANN   -  From    :  France
One more year, but time has no hold on you . HAPPY BIRTHDAY. Thank you for all .  YANN
NIGOUYA   -   From    :   France
Hello George we will, probably never celebrate your birthday together,wich is a shame, we can celebrate my thirty years of your of your career and my thirty years of birth has se the opera garnier si I wish you a wonderful birthday and a very long life , I love you and thank you for all the happiness you bring me .. lovelies  . NIGOUYA
SANDRINE   -   From   :   France
I wish a Happy Birthday to George , full of happiness . Kiss  SANDRINE
ALEXIS   -   From     :   Belgium
Happy to wish you a very happy birthday my dear George . Great joy for June 25, and I expect to see you again in brussels on 11 september this year....Your fan forever . ALEXIS
LUCIE  -   From    :  France
Hello George, I wish you a happy birthday with joy and happiness with family and Fadi, your lovely kiss . LUCIE
NEIDA MARIA SILVA DOS SANTOS - From :  Portugal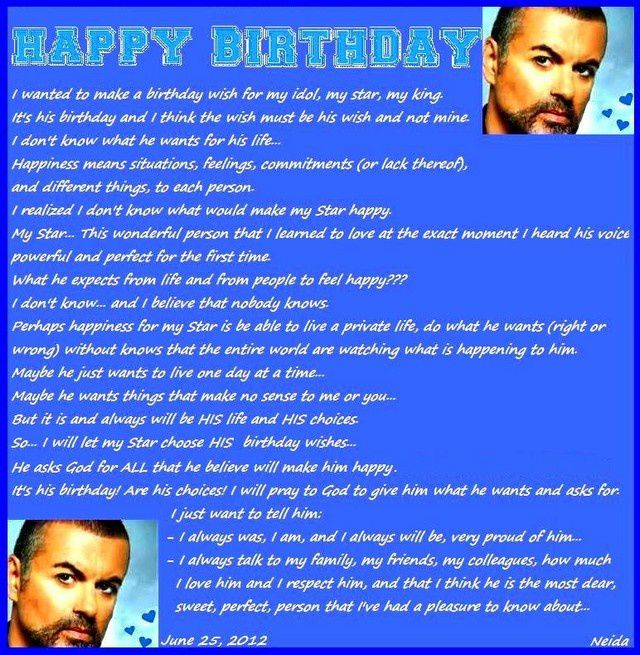 CHRISTIANE   -   From    :   France
Moderator of the blog in france of George-Michael-my-friend
DEAR GEORGE,
I wish you a happy birthday and I hope many others will follow, for June 25, a page is dedicated special you on my blog in french . I expected "WHITE LIGHT3 with impatience and you see the 11/09/2012 in Brussels for Symphonica . You make my life much happiness and I thank you for everything . Your lovely CHRISTIANE
UNE  AUTRE  PAGE  AVEC  D'AUTRES  MESSAGES  EST  A  VENIR  DANS  LA JOURNEE .....     ENCORE MERCI